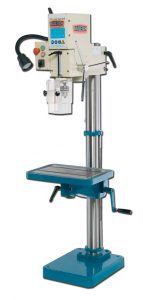 If you are looking to by an economical gear head drill press then Baileigh DP-1000G Gear Driven Drill Press is the good tool for you. You can deploy this drill press in fabrication or machine shop because it runs on 100 volts electricity. It can easily drill mild steel with up to one-inch drill bit. Baileigh DP-1000G Gear Driven Drill Press features a heavy cast iron base and adjustable table for all your drilling convenience.
The gear head drill press by Baileigh uses an ample column to minimize flexing. Since the machine comes with a gear head so it can easily be adjusted upside or downside of the column. It features the transmission that comes with various speeds, which are good for drilling and tapping various materials. Also, Baileigh Drill Press comes standard with a halogen light and protective guarding for all your drilling convenience.
This is a high quality gear head drill press that will surely be liked by you because it delivers impressive performance. And the drill press is based on a powerful 1.5-hp motor.
---
Specifications
Table Size: 19.75″ x 13.75″
Motor: 1.5 hp
Item Number: DP-1000G
Spindle Taper: MT 3
Drill Capacity: 1″
Tapping Capacity: 5/8″
Spindle Speed: 125, 420, 535, 1740 rpm
Shipping Dimensions: 66″ x 22″ x 28″
Base Dimensions: L x W 15.5″ x 19.5″
Power: 110V
Spindle Travel: 5.3″
Shipping Weight: 484 lbs.
[home]