If you are looking to buy a good quality drill press for most of your drilling works, please check this 10-inch drill press by BuckTool. This is a 5-speed drill press that comes with laser track guided bench.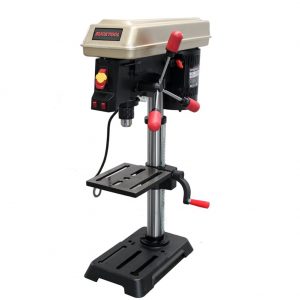 The BuckTool 5-speed drill press is powered by 2/3-hp powerful motor that can handle various materials including aluminum, wood and metal. The BuckTool drill press machine is based on laser alignment system. This system lets you lock on your drill points and can save your time to make on the material. It also features 3 LED bulbs for safer work in even dark environment.
This 5-speed BUCKTOOL drill press can be compared with handheld drills. This benchtop is good for convenient and precise drilling works. Because it is based on 6.2-AMP induction motor with deep ball bearings that make your drilling work much easier.
Important features
5-speed (610 to 2800 rpm speed range)
120V, 60Hz, 6.2 Amp induction motor
4 x 8.19 inches base size
2 inches spindle travel
64 x 6.5 inches table size
1/16 to 1/2 inch chuck capacity
13mm or 0.5-inch drill capacity
89 inches column diameter
Since this BUCKTOOL drill press comes with 2-inch spindles travel and 0.5-inch chuck with JT33 spindle taper so it can handle various hobby jobs related to woodworking and metalworking.
Also, it features a work-table that can bevel 45° left and right so you can have right angles consistently. Please make sure that the base were made of cast iron. It comes with drilled holes for mounting onto a bench or work stand. And the slot on the table can mount clamps and vises.
Important Details
| | | |
| --- | --- | --- |
| Built-in LED Light | The integrated LED light has independent switch and it greatly illuminate your work-piece. | |
| Drilling Depth Adjustment System | Using this drilling depth adjustment system, you will be able to drill holes at any exact depth by setting the two nuts. Because they stop the movement of the spindle | |
| Drive Pulley with 5 Steps | The accurately made cast iron parts driven pulley has low vibration and low noise | |
| Cross Laser Guide | It is preset in the factory with high accuracy and also allow you to adjust it yourself. | |
| 10-inch Drill Press by BuckTool | The drill press comes with various features including powerful induction motor, 5 speed for different application, safety switch with key, three-spoke feed handle and many useful features | |
| BuckTool | BuckTool is a popular brand name for many machinery tools. It has been in the industry since 2008 and relied on 10-year OEM supply chain service and base on 30 years manufacturing and design experience. | |
This BuckTool 5-speed drill press will surely meets your requirement because it is based on a powerful 2/3-hp motor. It has 2-inch spindles travel and 1/2-inch cuck to handle most of the drilling works in metalworking and woodworking. Read more…
[home]