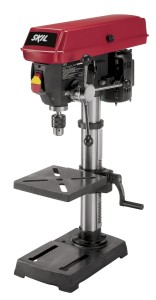 SKIL 3320-01 Drill Press features 3.2 AMP motor, LaserX2, 2 Beam laser system, 0° to 45° L & R tilting work surface, 5-speed (570 to 3050 RPM) and depth adjustment system.
The work table is made of cast iron that is good for durability, consistency and accuracy. SKIL 3320-01 is made in red color that looks good at your workplace. Keeping consistency in mind, it features depth adjustment system that is good to drill down consistently all the times.
SKIL 3320 can handle any materials such as iron, wood and other hard materials. It can be used for your woodworking requirements as it is good to work with larger diameter bits for all your efficient and precise woodworking requirements.
Of course, it is solid enough to handle heavy duty tasks and to maintain the consistency. Most importantly, it has gotten certification from cSAus means all the parts have been approved from the cSAus institution to make sure it use using only high grade components and it is safe to use at workplace.
Moreover, SKIL 3320-01 120-Volt 10-Inch Drill Press comes with 3 years of warranty means if you find any defects in the product you can claim your warranty by contacting the customer service centre of SKIL. Please make sure the product is made in China, but it is a high quality product event it is made in Chine. Also, the chuck size is of 0.5-inch. Read more…
---
[home]