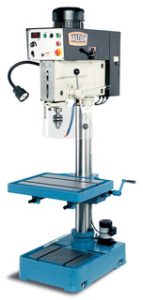 Baileigh DP-1250VS is a long lasting drill press. This is a floor drill press that is very powerful because it features a sturdy base and column that deliver stable performance even in the toughest drilling tasks. It features 20.8 swing and so it can be a good addition to any machinery and fabrication shop.
---
Features:
25 inches mild steel drilling capacity
4 Morse taper to transfer the power from the spindle to the quill
Powered by a powerful 2-hp motor that runs on 220-volt of single-phase power
It has variable drilling speed ranging from 85-rpm to 2000-rpm
Auto-reversing tap function with up to 0.75-inch capacity
Digital display to show the actual quill rpm
220-inch x 18.5-inch table with sturdy base is made of high quality iron casting for the impressive rigidity
Wider column to provide the needed support and rigidity to minimize flexing even in the toughest drilling operation
A large 0.625-inch T-slots enable fixture and vise to hold your material very securely
The coolant system at the base sprays out at the quill behind the splash and safety guard to extend drill bit and tap lifespan
A one-year of limited warranty and lifetime technical support attached with this Baileigh drill press.
Specifications:
Tapping Capacity: 3/4″
Base Dimensions L x W: 27″ x 19″
Spindle Speed Low: 65 – 540 rpm
Column Diameter: 4.52″
Power: 220V / 1-phase
Quill Diameter: 2.95″
Table Slot: .625″
Drill Capacity: 1.5″
Spindle Nose to Base: 48.22″
Spindle Travel: 5.9″
Table Size: 22″ x 18.5″
Spindle Taper: MT 4
Item Number: DP-1250VS
Main Motor: 2 hp
Spindle Nose to Table: 36.41″
Swing: 20.8″
Spindle Speed High: 245 – 2000 U / 1 min
Shipping Dimensions: 40″ x 25″ x 83″
Shipping Weight: 847 lbs.
[home]