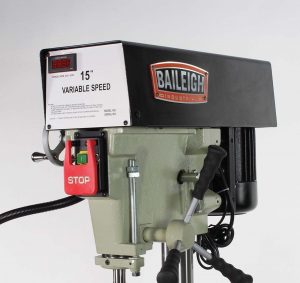 If you are looking to buy a performance oriented drill press, please check Baileigh DP-15VSF Drill Press as well. This is a high quality drill press, which is made by the popular Baileigh brand. This is a belt-driven variable speed unit that comes with a powerful one-HP motor. The 1-hp drill press motor on either 110V or 220V on single phase.
Since it comes with variable speed so it lets the MT2 spindle turn at any speed ranging from 400RPM to 5000RPM. Baileigh DP-15VSF Drill Press is the perfect tool for the woodwork related stuffs. It also comes with a digital readout that helps in knowing the operating speed. And it features a 6-inch spindle stroke.
Baileigh DP-15VSF Drill Press is durable drilling machine that comes with a large 3-inch diameter column that allows 15-inch swing. It has 14-inch by 18-inch table with 5/8-inch T-slots for handling larger projects. The drill press table also features a rack and pinion system for up/down movement of the table. Amazingly, Baileigh DP-15VSF Drill Press features a halogen work-light t light-up the working area.
---
Specifications:
Spindle Travel: 6″
Length: 30″
Height: 71″
Spindle Travel: 6″
Swing: 15″
Power: 110V
Table Size (Width): 18″
Drill Capacity: .625″
Weight: 300 lbs.
Horse Power: 1 HP
Table Size (Length): 14″
Width: 20″
Spindle: MT2
Related YouTube Videos
Baileigh Industrial DP-1250VS Variable Speed Drill Press Drilling Machine
---
Baileigh Industrial VM-836E Vertical Mill
---
[home]