If you are in sudden need of woodworking or you want to upgrade your tools, buying the best tools for your workshop is a must. The quality and detailing of your woodwork depend on your choice of tools. As a craftsman, the best quality drill press helps you to ace the woodwork. Even in long term, a good drill press will save you money, time, and gives you better output.
But there is always confusion when it comes to which drill press is the best. But you don't have to worry now. This article outlines features and professional opinion of Edgewood flooring store experts. Given below are some of the pointers to keep in mind while buying the best drill press.
 Jet Drill Press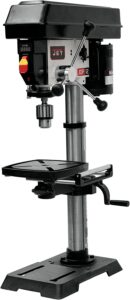 The jet drill press is one of the most suitable standings drill presses if you are looking to ace woodworking. This 20-inch machine is best for multiple projects, and it also promotes efficiency and accuracy along the way. For convenience and faster speed, a jet drill press is well equipped with a pulley cover, a hinged metal belt, and an adjustable motor mount. Moreover, the overall drilling process is as smooth as a breeze because of its spindle-supported ball bearings. An extra feature in the jet drill press is the work light, which is designed to see the woodwork easily, even if the light in the room is dim.
When it comes to safety and security, one added feature make this product more reliable and user-friendly. The power switch of the drill press is in the front which prevents any unwanted and undesirable mishandling of the material. Furthermore, the jet drill press has 12 speeds option to choose from. Ranging from 150 to 4200 RPM gives more variety and efficiency in crafting. The stabilizing feature with the built-in clamp of the drill is specially designed to be rotated up to 45 degrees.
With the height adjustment feature of the machine, the shaft can be easily adjusted with the help of a crank when required. You can easily raise or lower the crank depending on your needs. The drill press has ¾ inch chuck which is suitable for every type of drilling needs. With its adjustable spindle return spring tension, the overall drilling process becomes quite smooth and it also saves your energy and time. This is a product which will undoubtedly justify its price.  Read more…
 Pros of Jet Drill Press:
Drilling is convenient and efficient with an adjustable motor mount, hinged metal belt, and a pulley cover.
It has a ball-bearing supported spindle.
The work light installed in the drill press makes detailing and accuracy of craft easy and smooth.
Wide variety of speed options i.e. 12 to choose from.
Easily adjustable traveling table.
 Cons of Jet Drill Press:
On the head of the drill press, there's no depth stop adjustment, unlike in other models of the drill press.
There is quite a vibration and quill wobbling in the drill press, but it can be replaced.
 Rikon Drill Press
Many people complain about the large size of the drill press because they have small workshops where large machines cannot be used properly. Many people work with a variety of materials in their workplace and they don't have enough space to install or use large equipment. One solution to all these problems lies in this benchtop Rikon drill press. When it comes to spindle speeds, the Rikon drill press has five different speed options to offer, ranging from 610 to 3100 RPM. As per the drilling needs of your material, the Rikon drill press can easily be adjusted on five-speed levels.
Sturdy and Portable
Furthermore, the Rikon drill press's frame is quite sturdy that allows smooth woodworking, and prevents any unwanted vibration. Its overall frame is made from cast iron and solid steel which adds to its stability and strength. Unlike many other drills presses available in the market, the Rikon drill press is portable and can be easily traveled from one place to another. It is light weighted and suits the job where moving and adjustments are required. You can lift it easily and its small size is also an added advantage as it only takes up a small desk area.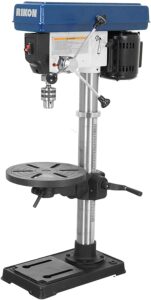 As far as the accuracy of the Rikon drill press is concerned, it is pertinent to mention here that it is equipped with a depth stop option, which makes your woodwork drilling accurate and detailed. This feature allows the user to be convenient in between the drills and depths, even if used repeatedly. This product is specially designed for light work and it can drill holes of small and medium-size, depending on your needs. This product can be used on a wide variety of materials as per the requirements. Its state-of-the-art motor ensures that each small drilling job is done with precision and accuracy. It also ensures that each hole is cleaner and is in the right place.
But, on the downside, the Rikon drill press does not support ½ hole to a ½ inch metal holes, which is make it an undesirable choice for a heavy workload. But, to compensate for this drawback, it has added value in affordability, portability, and lightweight aspects.   Read more…
 Pros of Rikon Drill Press
Variety of speed with five spindle speed options.
Smooth drilling and preventable unnecessary vibrations with a firm and sturdy frame.
Easy mobility and portability.
Light-weighted and user-friendly.
For accurate drilling, an inbuilt depth stops feature.
Efficient and accurate in small to medium size holes in metal and wood.
 Cons of Rikon Drill Press
Unable to handle large materials.
Due to its size and its motor, it has limitations as compared to the floor drill press.
Both of the drill presses, Jet and Rikon, have their unique feature and advantages. But, with all these value-added features, both the products have their limitations too. My personal choice among Jet and Rikon Drill Press is Rickon Drill Press as it is far better in utility than Jet, but when it comes to affordability, Jet beats Rikon drill press.