Have you ever considered the fantastic 10 in. Bench Mount Drill Press? Sometimes this drill press is ignored, yet it has the best features that deliver the quality beyond expectations. The features and the quality design has made it emerge among the best drill press that comes at the most cost-valid prices. It's, therefore, essential to study the features and the benefits that its features will deliver! This article will take you through the key elements that make up the 10 in. Bench Mount Drill Press!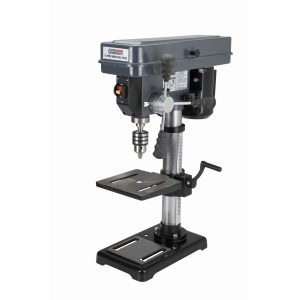 Key features
10 in. Bench Mount Drill Press has a smooth rack and pinion table movement that simplifies the need to more as you adjust for better precision. If you are a tall or a short person, the drill press table will still be useful for you since it has an adjustable depth that will stop with a gauge! The adjustability will allow the convenience to work with the heights that you will love! The drill press table can also rotate for 360 degrees and has a tilting effect of 45 degrees! This inclination effects will allow convenience while working with any given angles, and therefore, you were be limited to single space.
Notably, the 10 in. Bench Mount Drill Press has a heavy-duty ball bearing motor that operates with 12 types of speeds! The 12 operation speeds accord the user with a variety of choices, and you can always choose the convenience rate for your device. Notably, the variable speeds will also in accuracy and safety! Sometimes we need tint holes of a small depth! It means that you will need a low-speed operation! 10 in. Bench Mount Drill Press provides you a chance to enjoy such convenience without any challenge.
Other relevant features that this machine comes with includes the chuck key, the two hex wrenches, and the chuck key release. Its weight is only 62 pounds and can drill through woods, plastics, and metals. 10 in. Bench Mount Drill Press is simply the best and will grant you the convenience that you desire!
Important Details:
Color: chrome-plated
Included Components: chuck key, two hex wrenches, chuck key release
Spindle Taper: B16
Number of speeds: 12
Horsepower: 0.60 horsepower
Maximum Current: 3.85 amps
Minimum Speed: (RPM) 300 RPM
Table dimensions: 7-5/8 in. x 7-5/8 in. ,
UNSPSC Code: 23241801
Speed (max): 2900 RPM
Table tilt (deg): 45° left and right
Brand Name: Central Machinery
Spindle Speed: 300, 370, 470, 570, 630, 690, 950, 1400, 1620, 1760, 2550, 2900 RPM
Item Weight: 62.0 pounds
Material: Drill through wood, plastic and metal
Conclusion
To conclude, 10 in. Bench Mount Drill Press is one of the leading choices of the drill press machines that should be considered due to their quality performance! It's available at Amazon and will deliver the convenience, durability, and more so cost-effective value! Get it now and smile among the many woodworkers enjoying the quality performance with the fantastic 10 in. Bench Mount Drill Press! Read more…
[home]