Wen 4210T is an impressive 10-inch drill press, which is good for many materials including wood, metal, plastics and many others. Since it comes with 5 speeds so let you choose the speed, which is perfect for your project. You will be able to choose speeds such as 600, 1100, 1700, 2400 and 3100 RPM.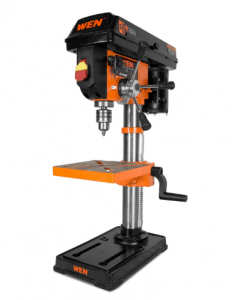 Further, the WEN 10" drill press is a heavy duty machine that comes with a strong cast-iron construction. This machine has 1/2-inch chuck with JT33 spindle taper, which provides the utmost flexibility.
And the worktable can move 45° left and right, which is good for the accuracy where you require accurate angled holes. It also comes with X-shaped laser locks-on to your drill points so that you don't have to use the guess work. This WEN drill machine is perfect for drilling holes precisely because it comes with laser precision.
WEN 4210T comes with features, which are often used in highly priced drill presses. The features WEN 4210T carries are a guide for adjusting depth, 5-speed operation, onboard key storage, 3.2 AMP motor, beveling worktable, 10-inch swing, 2.5 inches spindle travel and 0.5-inch keyed chuck.
Adjusting Depth
You will be able to set the depth adjustment lever to limit your spindle travel for accurate and repeatable drilling operations.
Onboard Work Light
WEN 4210T lets you light up the work-piece with the onboard work-light greater accuracy and visibility.
The package includes WEN 4210T drill press machine, 0.5-inch chuck and key, tools for assembly and class II 1MW laser.
Highlights
| | |
| --- | --- |
| Speed | 5-speed adjustable from 600 RPM to 3100 RPM |
| Spindle Travel | 2.5 inches spindle travel with easy to read, locking liner depth stop for accurate and repeatable drilling operations |
| Motor | 3.2 AMP heavy duty motor that delivers good power for the smooth drilling |
| Worktable | The worktable measures 7-5/8 x 7-5/8 inches, made of high quality cast iron material that features a rack and pinion height adjustment and moves up to 45° left and right |
| Precision Laser | The laser light specifies the exact spot that the bit will travel through for the greatest accuracy in drilling |
| Foundation | Cast Iron Base – the cast iron base prevents walking and wobbling during operation with bolt holes to mount the drill press to a benchtop of your choice |
| Accessories | Work light, laser and key storage |
WEN 4210T 10 In. Drill Press is a popular drilling tool that has received impressive ratings on various shopping websites including Amazon.com, Walmart and eBay as well. The important features include:
Depth adjustment guide
Work-light
Laser precision
Beveling work-table
5-speed operation
2/3-hp induction motor
10-inch swing & 2-1/2-inch stroke
1/2-inch keyed chuck
Cast iron base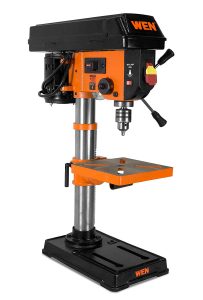 ---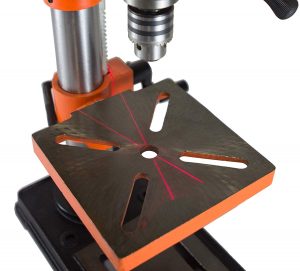 ---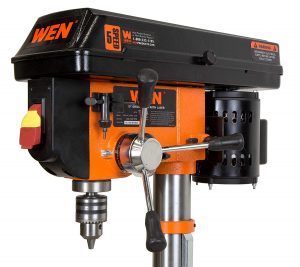 ---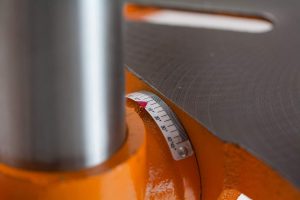 ---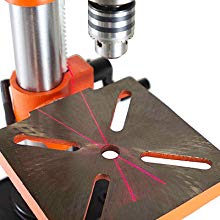 ---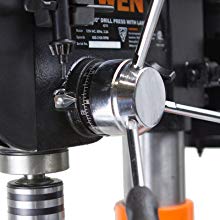 ---
---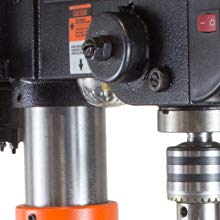 ---
WEN 4210T Drill Press Video Reviews from YouTube
Gary's Wares: WEN #4210 10″ Drill Press w/ Laser Review (FINAL)
---
The WEN 10-Inch Variable Speed Drill Press
---
Similar from Pinterest.com

More Reviews from WEB:
https://healthyhandyman.com/wen-4210-vs-skil-3320/
https://drillly.com/wen-4210-drill-press-review/
[home]