If you are looking to buy a drill guide, which is also very popular then please check Milescraft 1318 as well. This drill guide by Milescraft has received impressive reviews on various shopping websites and so it is recommendable here at DrillPressReview.com as well.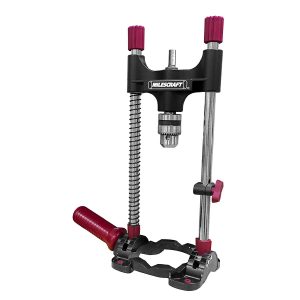 Milescraft 1318 is a low price Drillmate drill guide with chuck, which is perfect for drilling on the edge of a board, angled drilling or straight drilling. It is also good for drilling on round stock. It comes with angle cuts of 45° to 90° and has integrated angle read-out in the all metal base.
The Milescraft 1318 drill guide attaches to all 3/8-inch and 1/2-inch power drills and it comes with a 3/8-inch capacity chuck with key.
Further, it also comes with centering channels attached at the bottom of the base, which is good for accepting any round stock up to 3 inches in diameter. And it comes with adjustable depth stop and spring action control of the head.
It comes with:
Ball bearings for spindle support
Self-centering drill guide base
V-groove to drill on round stock
Angle readout to set drilling angles to 45°, 60°, 75° and 90°
TPE feet to get rid of slipping and marring on the work surface
Mounting holes for mounting with screws when needed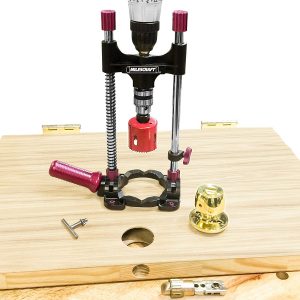 Specifications
| | |
| --- | --- |
| Model Number | 1318 |
| Material | Stainless steel |
| Accessories | All accessories are included for drill guide |
| Dimensions | 16.6 x 7.1 x 2 inches |
| Item weight | 3.9 pounds |
| Compatibility | Compatible with most 3/8 inch drill accessories |
| Mounting | Mounted in a fixed position on the base for maximum support no matter what drilling motion you are doing |
Since any DIY project depends on drilling straight and accurate holes so this Milescraft DrillMate drill guide is good for straight holes, angled holes and on the edge of a board or even round stock. Of course, you will be able to add a whole new level of accuracy with this drill guide jig when drilling holes with your standard hand drill. Read more…
More Images of Milescraft 1318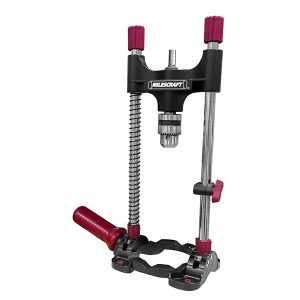 ---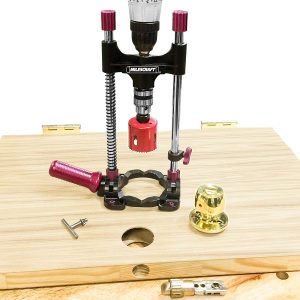 ---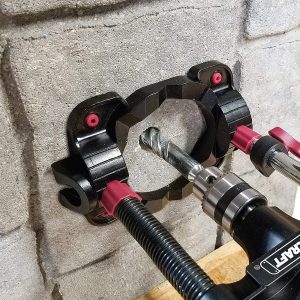 ---
---
More Reviews of Milescraft 1318 Drillmate Drill Guide from YouTube
Milescraft 1318 DrillMate – Portable Drill Press
---
Milescraft 1318 AccuDrillMate – How to Drill Pen Blanks Without A Drill Press
---
More Ideas from Pinterest

---

Highlights of Milescraft 1318
Auxiliary Handle
Innovative Metal Base With Angle Readout
Metal Angle Adjusters
DrillMate Metal Head
3/8" Keyed Chuck
Adjustable Stop Collar
Specifications
Compatible with 3/8" and 1/2" power drills
30″ Max Travel
Minimum Drill Bit Clearance: 0.72″
Base Opening: 3-1/2″ in diameter
3/8″ Keyed Chuck
Max Travel: 8.23″
20″ Minimum Drill Bit Length
Maximum 7.50″ Drill Bit Clearance
Metal and plastic Material
Weight: 4.13 lbs
---
PDF – 1318 DrillMate Manual (PDF) and DRILL HEAD CLEARANCES
[home]