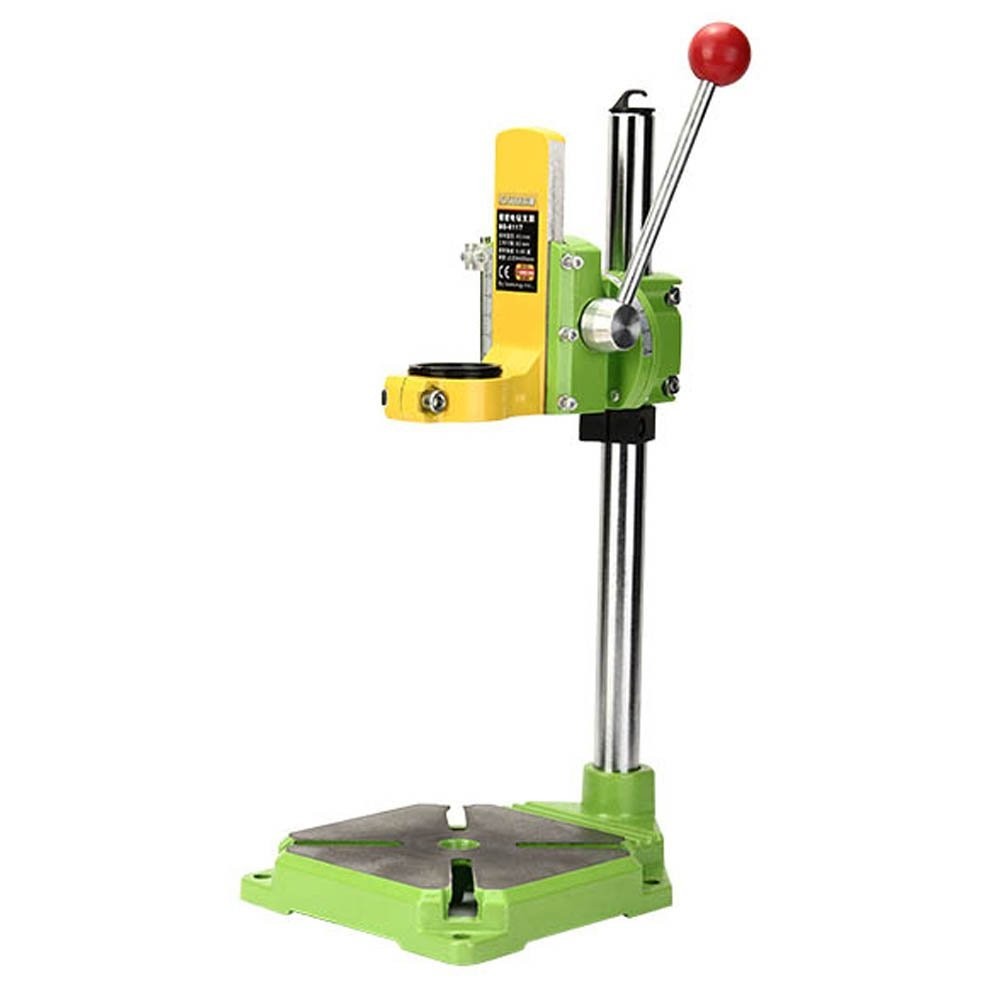 Lukcase Floor Drill Press Stand Table comes with 60mm working stroke, 60mm down stroke. It comes with copper plug readjustment capability for the greatest precision and durability. Luckcase floor drill press stand table has 0°-90° rotation profile to drill slant hole. Further, it has 44mm original clamping range, and it can greatly be adjusted from 27.5mm to 43.6mm.
Important specifications are iron bottom bracket, 38-43 mm clamp, 25 X 400mm main rod, 400 X 155 X 155 mm size, 60mm trip. Please note that 50MM is very suitable for long time work. Please note that the jaws is of 38 to 43 mm and comes with adapter sleeve that can take up to 38 to 43 mm. Read more…
---
Drill press images
---
Related YouTube Videos
Mini Electric Drill Carrier Bracket With Mini Bench Multifunction Drill Vise Fixture Worktable
---
Drill Press Stand How To Setup and use -Review
---
DIY Rolling Drill Press Stand
---
Features
It includes separate adjustments for limiting press depth and drill height so you can change drill position with minimal risk of over-drilling into the stand.
This heavy duty drill stand is designed for power drills with collar diameter from 38mm to 43mm(48" to 1.7") with supplied reducing bush. With this drill stand, drilling at surfaces, round workpieces and boards can be done with absolute precision.
The drill collar can be adjusted to suit a variety of tools and the stand is supplied with 3 different size collar inserts to suit smaller drills.
Substantially cheaper than purchasing a full drill press. This drill press stand has all the necessary features expected in a full-size drill press stand.
It has a sturdy column bar and the base has slots for fitting a machine vice, and 4 clamping points for mounting firmly with your worktable .It also features a depth adjustment scale and stop ith an adjustable scale ring for accurately setting the drilling depth, down to the last millimeter.
Specs
Type: Iron Bottom Bracket
Base: Cast Iron Base
Main Rod : 25*400mm
Drilling depth: Up to 60mm
Size : 400*155*155mm
Quantity: 1x Drill Bracket (electric drill in the picture is NOT included)
Min- Max Clamp : 38-43mm(48" or 1.7")
Lukcase Floor Drill Press Stand Table for Drill Workbench Repair Tool Clamp for Drilling Collet,drill Press Table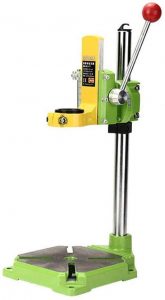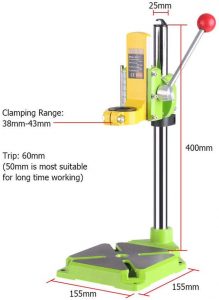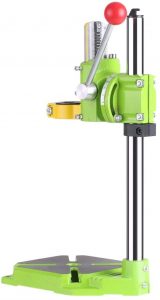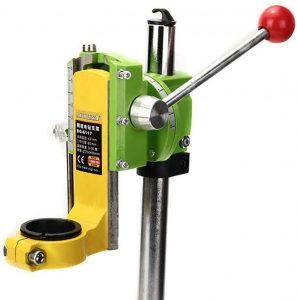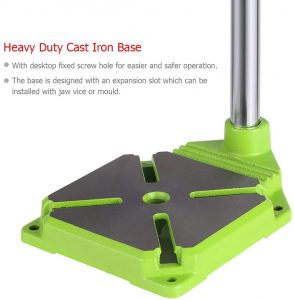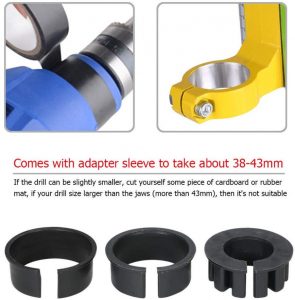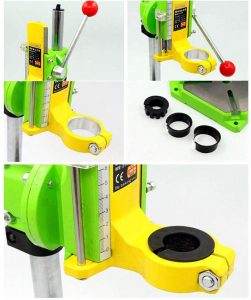 ---