Mophorn 980W Magnetic Drill Press with 1.37 Inch (35mm) Boring Diameter Magnetic Drill Press Machine 2250LBS Magnetic Force Magnetic Drilling System 680 RPM Portable Electric Magnetic Drill Press
There are various brands that make magnetic drill presses, one of them is Mophorn that has made various magnetic drill presses. You can check Mophorn 980W magnetic drill press that comes with 1.37 inches boring diameter. This is a 680 RPM portable electric magnetic drill press that is good for most of the drilling works.
Since this drill press is based on 900 watts magnetic drilling system so it does deliver impressive performance. Also, it comes with max drilling diameter of 35-mm or 1.37-inch to deliver the highest possible drilling performance.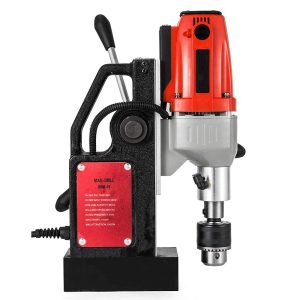 Mophorn 980W Magnetic Drill Press is, of course easy to use because it comes with electro-magnetic base, which is controlled by a flick of a switch to engage or disengage the magnet and drill. Also, the magnetic drill press has high capacity because it has 150-mm maximum travel distance to offer the maximum capacity for the heavy duty appliances.
Of course, the Mophorn magnetic drill press has wider application because it is versatile, accurate and fast. With the strong magnetic adhesion so it is a powerful tool when performing heavy-duty industrial and steel fabrication work. The magnetic drill press by Mophorn is perfect for equipment manufacturing, steel materials, installation of equipment, bridge engineering, wind power generation, drilling rig and electric power construction.
The package contains
1 X 35-mm core drilling machine
1 X kettle
1 X rope
1 X chuck key
1 X silk power chuck
Specifications
980-watt rated output
6580-rpm rated speed
35-mm max recommended drill size
150-mm max travel
10000N (2250LBS) magnetic adhesion
| | |
| --- | --- |
| Important Features: |   |
| Strong Power | Magnetic drilling system motor has 980 watts of output and requires 110V voltage for the smooth operation; 50 Hz |
| Easy To Use | The electric magnetic drill press is very easy to use because the electro-magnetic base is controlled by a flick of a switch to engage or disengage the magnet and drill |
| Highly Capacitive | Since it comes with 6-inch max travel distance so it offers the maximum capacity for heavy duty applications |
| Wider Work Scope | Of course, the Mophorn magnetic drill press is versatile, accurate and fast with strong magnetic adhesion so it is the perfect machine for performing heavy-duty industrial and steel fabrication work. The machine is well suitable for shipbuilding, steel structure, equipment manufacturing, equipment installation, bridge engineering, wind power generation, drilling rig, electric power construction and much more. |
| Package dimensions | 25.5 x 13 x 6.9 inches |
| Item weight | 27.4 pounds |
| Package contains | 1 x 35mm core drilling machine, 1 x kettle, 1 x drill chuck, 1 x silk power chuck and 1 x chuck key |
| Max travel distance | 6-inch or 150-mm |
| Rated speed | 680-rpm |
| Portability | Ultra-portable and lightweight |
| Magnetic Adhesion: | 10000N (2250LBS) |
| Material | Steel |
| Power Source | AC |
More Images of Mophorn 980W Magnetic Drill Press
Related Videos from YouTube
How to Use Annular Cutters with Magnetic Drilling Machines | CS Unitec
---
Magnetic (Mag) Drill – Milling – Drilling – Tig Welding a Steel Stand
---
SPITZNAS Hydraulic Magnetic Drill
---
Homemade magnetic drill stand
https://www.youtube.com/watch?v=NnqPDQTqbVY
---
The industry leading Mophorn brand drill press is specifically made for speed and total precision. It comes with strong magnetic adhesion (2250LBS), optimized rotation speed of 680-rpm so it is the essential unit for performing heavy-duty industrial and steel fabrication work. Read more…
[home]