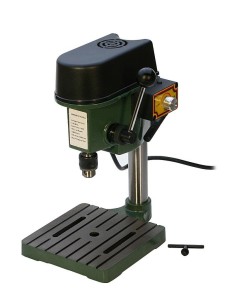 EURO TOOL bench-top drill press is a high quality product that is equipped with all the important features that you need for all your drilling requirements whether you want to drill metal, wood or plastic.
In case, you don't find any features as per your specific requirements, you can check other drill presses from different brands. These drill presses such as Woodtek 109367, Fiskars Hand Drill, WEN 4208 8-inch 5-speed drill press, SKIL 3320, SE 97511MDP and others.
You need to check their features if they need your requirements. However, EURO TOOL DRL 300.00 is a drill press that has all the features to meet your average drilling requirements. Good thing about this drill press is it is compact enough, made in a small size so that you can easily carry it from one work table to another. For a reliable drilling requirement, this is a perfect tool as it is durable enough to enable you to work accurately.
It features base that measures 6.75-inch by 6.75-inch that include 5-inch drill clearance. The drill can be adjusted from 0-8500 RPM that is really advanced setting in such low priced bench-top drill press. It comes with a tutorial book that is very useful for assembly, adjusting RPM, safety warnings, knowing specifications of the drill press and other information that you are not aware of. Read more…
---
[home]