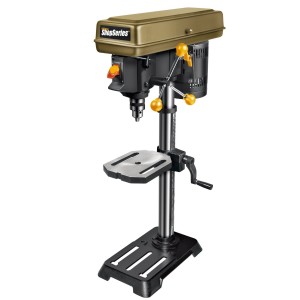 If you want to purchase a drill press for your home workshop, you can check this Rockwell RK7033 drill press (shop series) that carries advanced features and the price is lower than other drill presses from the different brands if you compare the features.
Rockwell RK7033 features heavy duty 6.2 AMP motor (2/3 HP), 5 speed gear box that offer smooth performance. Keeping handiness in mind, Rockwell has used 45° bevel (right and left) with a 2" spindle travel that make drilling very easy. It has great adjustment feature for rack and pinion table height adjustment. For repetition, precision, Rockwell RK7033 delivers great result as it handles any types of materials such as plastic, metal, wood and others.
I will say Rockwell RK7033 Shop Series drill press (10-inch) can be a great addition to your home workshop without spending too much money. With this purchase, you also get important accessories such as allen wrench, chuck key and other tools.
Please make sure that it doesn't come with a lager guide, if you need it you have to buy separately that can you can easily find on Amazon or other shopping website. Read more…
---
[home]