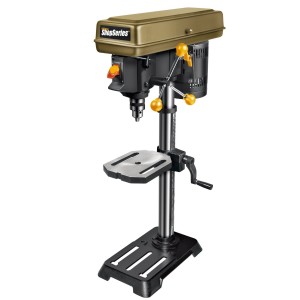 If you want to purchase a drill press for your home workshop, you can check this Rockwell RK7033 drill press (shop series) that carries advanced features and the price is lower than other drill presses from the different brands if you compare the features.
Rockwell RK7033 features heavy duty 6.2 AMP motor (2/3 HP), 5 speed gear box that offer smooth performance. Keeping handiness in mind, Rockwell has used 45° bevel (right and left) with a 2" spindle travel that make drilling very easy. It has great adjustment feature for rack and pinion table height adjustment. For repetition, precision, Rockwell RK7033 delivers great result as it handles any types of materials such as plastic, metal, wood and others.
I will say Rockwell RK7033 Shop Series drill press (10-inch) can be a great addition to your home workshop without spending too much money. With this purchase, you also get important accessories such as allen wrench, chuck key and other tools.
Please make sure that it doesn't come with a lager guide, if you need it you have to buy separately that can you can easily find on Amazon or other shopping website. Read more…
---
Vtopmart 20 Metal Wood Oscillating Multitool Quick Release Saw Blades Compatible with Fein Multimaster Porter Cable Black & Decker Bosch Craftsman Ridgid Ryobi Makita Milwaukee Rockwell.



$25.99

@ Amazon.com
Product Details
| | |
| --- | --- |
| Brand: | Vtopmart |
| Model #: | USVM01001 |
| Size: | 20 Pack |
| Color: | black |
| Price: | $25.99 |
---
Milescraft 1318 Drillmate Drill Guide with chuck



$33.99

@ Amazon.com (Save 11%)
Product Details
| | |
| --- | --- |
| Brand: | Milescraft |
| Model #: | 1318 |
| Size: | 1 PACK |
| Dimensions: | 16.63 X 7.13 X 2 Inches (Length X Width X Height) |
| Price: | $33.99 (Save 11%) |
---
HQRP On-Off Toggle Switch Works with Dewalt, Rockwell, Hitachi, Reliant, Performax, Dayton, Jet, Craftsman OR90037 OR9OO37 0R90037 Power Tools Planer Band Saw Drill Press Table Saw Grinder Sander



$9.95

@ Amazon.com
Product Details
---
BILT HARD 8 in Drill Press, 5-Speed Benchtop Drill Press with Worklight, Drill Vise and Bit Set, CSA Certified



$109.99

@ Amazon.com
Product Details
| | |
| --- | --- |
| Brand: | BILT HARD |
| Model #: | 8 inch |
| Size: | 8 inch |
| Price: | $109.99 |
---
WEN DS164 20-Piece Sanding Drum Kit for Drill Presses and Power Drills



$11.51

@ Amazon.com
Product Details
| | |
| --- | --- |
| Brand: | WEN |
| Model #: | DS164 |
| Dimensions: | 1.5 X 1.5 X 2 Inches (Length X Width X Height) |
| Price: | $11.51 |
---
Big Horn 19521 Rubber Sanding Drum Set, 20 Piece



$21.92

@ Amazon.com
Product Details
| | |
| --- | --- |
| Brand: | BIG HORN |
| Model #: | 19521 |
| Dimensions: | 11 X 7 X 2.5 Inches (Length X Width X Height) |
| Price: | $21.92 |
---
Milescraft 1097 ToolStand - Drill Press Stand (compatible with Dremel),Black



$34.49

@ Amazon.com (Save 22%)
Product Details
| | |
| --- | --- |
| Brand: | Milescraft |
| Model #: | 1097 |
| Warranty: | Y |
| Color: | Black |
| Dimensions: | 7.5 X 5.3 X 13.3 Inches (Length X Width X Height) |
| Price: | $34.49 (Save 22%) |
---
Best Choice 8-Piece 1/2" Shank Silver and Deming Drill Bit Set in Aluminum Carry Case, High Speed Steel (HSS) | SAE Size 9/16" - 1" by 1/16th Increment



$39.99

@ Amazon.com
Product Details
| | |
| --- | --- |
| Brand: | EFFICERE |
| Price: | $39.99 |
---
WEN 4214 12-Inch Variable Speed Drill Press,Orange



$271.81

@ Amazon.com (Save 32%)
Product Details
| | |
| --- | --- |
| Brand: | WEN |
| Model #: | 4214 |
| Warranty: | 2-year warranty, 90-day commercial |
| Size: | 12 inches |
| Color: | Orange |
| Dimensions: | 13.5 X 36.625 X 16.75 Inches (Length X Width X Height) |
| Price: | $271.81 (Save 32%) |
---
WEN 4212 10-Inch Variable Speed Drill Press



$168.09

@ Amazon.com (Save 27%)
Product Details
| | |
| --- | --- |
| Brand: | WEN |
| Model #: | 4212 |
| Warranty: | 2-year warranty, 90-day commercial |
| Size: | 10 inches |
| Color: | Orange |
| Dimensions: | 13.5 X 33.875 X 11 Inches (Length X Width X Height) |
| Price: | $168.09 (Save 27%) |
---