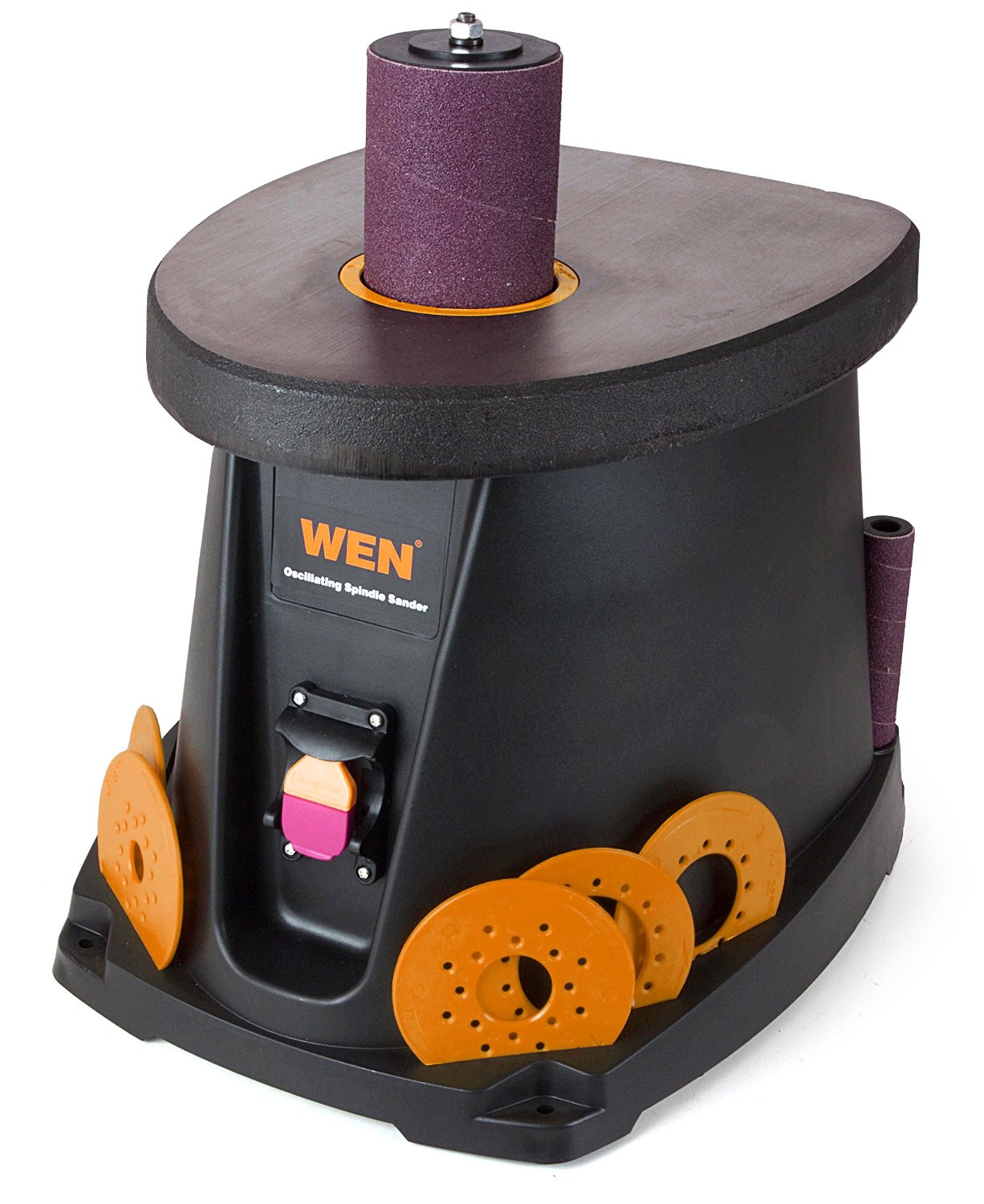 WEN 6510 Oscillating Spindle Sander is a great sanding tool that easily smooths out arcs, curves and odd shapes.
It features easy-to-swap plates and drums, and it is built in a lightweight design for easy mobility when required. It weighs approx. 35 pounds but it delivers great result. It has a quiet 3.5 AMP motor and the sanding spindle moves up to 58 oscillations and 2000 rotations/minute with a 5/8 inch stroke.
The package comes with 6 sanding sleeve attachment sizes such as 1/2, 3/4, 1, 1-1/2, 2 and 3 inches to meet every situations you face. WEN 6510 Oscillating Spindle Sander also comes with an on-board storage that keeps the spindles, sleeves, table inserts and spindle washers organized and they are accessible for quick changes.
The dust extractor can be used to collect airborne dust particles to ensure a cleaner working surface and shop so that you can keep working.
WEN 6510 Oscillating Spindle Sander comes with 2 years of warranty, award-winning customer service and wider national network of skilled service technicians. WEN 6510 Oscillating Spindle Sander lets you explore the creativity you have and makes the sanding task a breeze. Read more…
More Images of WEN 6510T 3.5 Amp Oscillating Spindle Sander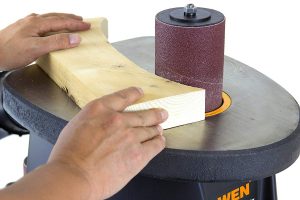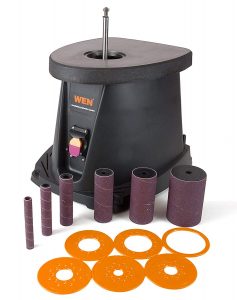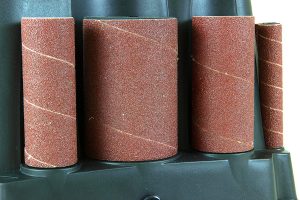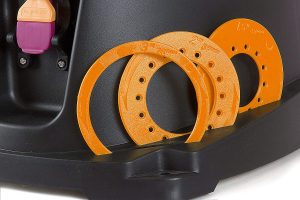 WEN 6510T is powered by a high power motor that delivers 3.5 AMPs or 1/2-hp sanding power that meats it can generate approx. 58 oscillations and 2000 rounds every minute.
Features:
Features onboard storage for all accessories along with a dust collection port for hooking in a dust extractor
Backed by a two-year warranty
Onboard Storage
Five Rubber Drum Spindles
Powerful 1/2 HP 3.5 Amp motor provides 58 OPM and 2000 RPM
Attach the dust collector of your choice to the onboard dust port to minimize clean-up
Includes six 80-Grit sanding sleeve sizes for a variety of curvatures: 1/2 in., 3/4, in., 1 in., 1-1/2 in., 2 in., 3 in.
Dust Port
Six Sanding Sleeve Sizes
15 by 11.5 Inch Worktable
Youtube Video Tutorials
WEN 6510T 3.5 Amp Oscillating Spindle Sander – Review
---
Wen Oscillating Spindle Sander
---
WEN Oscillating Belt and Spindle Sander
More Details
Dust collection: 1 x Port
No Variable Speed
Amperage: 3.5 AMPs
Portability: Bench
PT: 1/2 HP
90-Day Returnable Guarantee
Color: Black
Product Type: Power Tool
2 lb weight
Two-year limited manufacturer warranty
Voltage: 120V
Lockout Power Switch
CSA Certified
Tool Type: Spindle Sander
Condition:New
Cord: 1 x 6 feet long
Similar Ideas from Pinterest.com
WEN Oscillating Spindle Sander, 6510T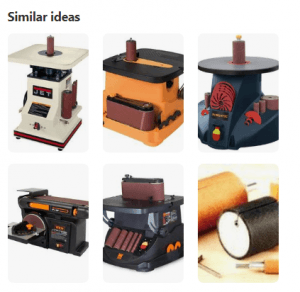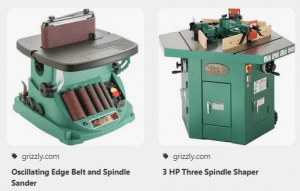 The Product: WEN 6510T 3.5 Amp Oscillating Spindle Sander