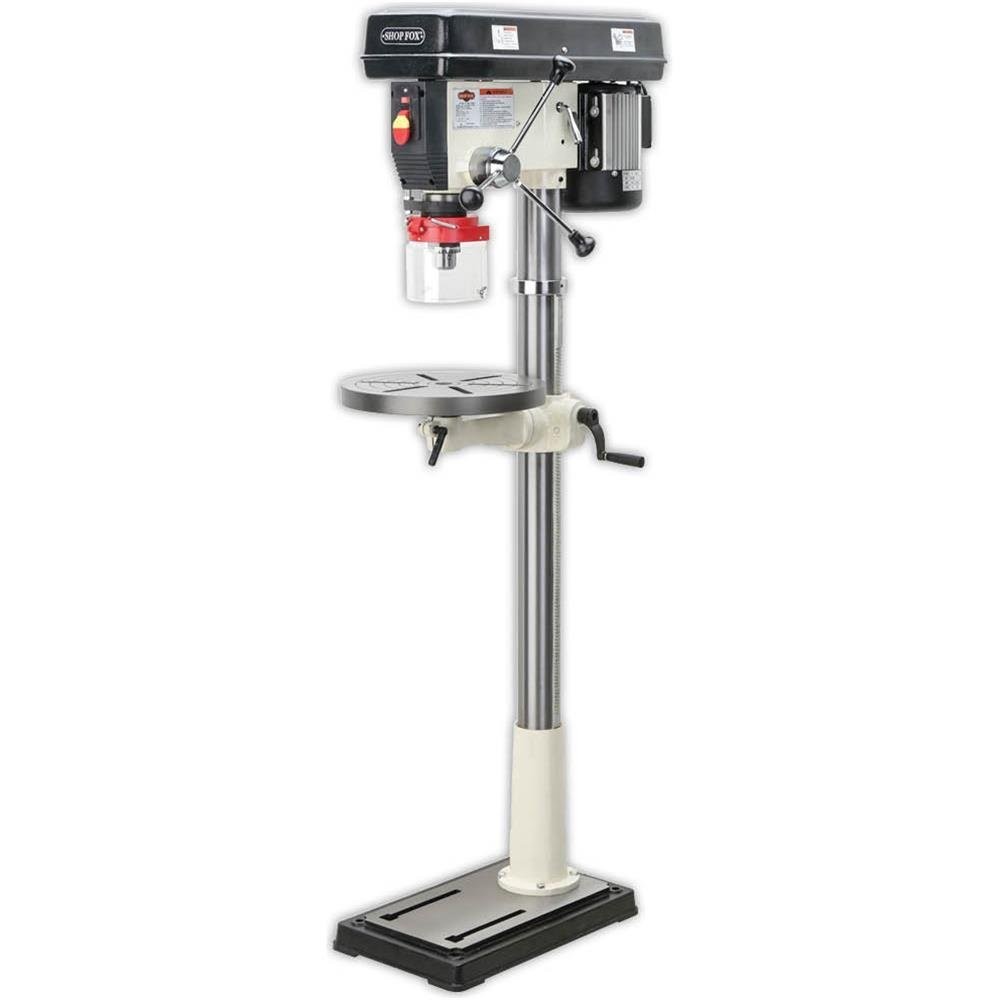 SHOP FOX W1680 1-Horsepower 17-Inch Floor Model Drill Press features 1 HP motor (1720 rpm), toggle type switch, 3-1/4 spindle travel, 5/8-inch drill chuck and integrated 110v light socket.
This SHOP FOX W1680 floor drill press is ideal for most cabinet shop or small machine shops. Further, it is powered by a powerful stable-performance 1HP motor. It has Morse taper No. 3 spindle for larger direct mount bits and the closely spaced spindle shaft bearings. Of course, SHOP FOX W1680 can be most accurate floor drill press in its category.
SHOP FOX W1680 floor model drill press is made of solid cast iron construction, carries precision ground table, sealed ball bearings, rubber coated fast-adjustment handles to deliver the great drilling convenience. Further, SHOP FOX W1680 also comes with an integrated light so that you can see what you do.
High grade Shop Fox drill press comes with a tilting table that has a 14-inch diameter, which is perfect for drilling at the angles from 0° to 90°. Also, you are able to adjust SHOP FOX W1680 drill press table for height, rotation and angle for a wide range of applications. Read more…
---
Images of SHOP FOX W1680
Features
Motor size: 1 HP, 1,720 RPM
Built-in 110V light socket
Accepts 5/8-inch drill chuck
Switch: Toggle type
Spindle travel: 3-1/4-inch
Specifications
Drill chuck: 5/8-inch
Voltage: 110V
Switch: Toggle type
Spindle taper: MT#3
Number of speeds: 12
Motor size: 1 HP, 1,720 RPM
Spindle travel: 3-1/4-inch
Range of speeds: 140-3,050 RPM
Overall height: 65-1/2-inches
Drilling capacity: 1-inch steel
Built-in Light Socket
Swing: 17-inch
---
Related Videos
Shop Fox W1680 Review
---
Best Drill Press To Buy – Drill Press Reviews
---
Shop Fox Drill Press
[home]